The hardware of the POS system is as essential as the software and its features. Once the right POS has been selected for your retail business it is time to move ahead to the next requirement, the hardware. Before picking the appropriate hardware it is essential to understand the basic need of your business and take decisions accordingly.
I have listed the POS hardware and will elaborate on each one with its purpose and importance.
- Devices
- Cash Drawer
- Customer Display
- Barcode Scanner
- Receipt Printer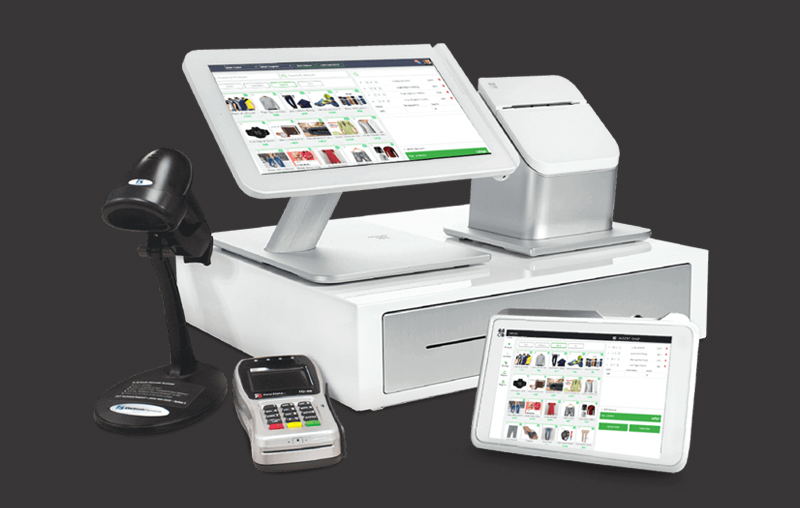 Devices
Considered as the most important component of the POS or point of sales. The whole POS system needs to be run by software that can be accessed via computer/mobile/tablets. It acts as a cash register or POS machine that receives payments, deducts taxes, maintains customer records. POS systems like Square enable you to perform many other functions like inventory management, customer profiling, and automation. It is suggested not to use these devices for regular internet surfing as it can expose your system to viruses. This may compromise your entire system and the data it contains. The POS/Point-of-sales devices are used for the following purposes only: - Complete sales transaction - Review sales reports - Manage stock, customer data, and employees.


Cash Drawer
The cash drawer is the storage box that stores all the valuables including cash, coins, cheques, and receipts if required. This drawer has small partitions which help you organize the whole cash. It also has a lock that keeps the drawer secure and requires passcodes to be opened by only authorized people. It works in a simple way, once you finish the sales transaction on the counter, your printer sends signals to your cash drawer which opens, so that you can store the amount and give the change back. A cash drawer is an essential POS hardware tool that keeps the cash amount saved and gives limited access. It also potentially decreases the risk of in-house theft.


Store Printer
Another important part of your Point of sales system is the Store printer. It is used in every retail counter whether it's a general store or a café restaurant. This tool prints the payment slips carrying transaction retails including the received cash, GST deduction, and change returned. Also, it prints the credit card slips. This helps your customers and you, both to keep the records of your transaction in both soft and hard form. The café and restaurants also keep the printers in the kitchen to print order tickets. Here is a list of printers that you should consider before purchasing any suitable printer for your Point-of-sale system.
- Thermal Printer – they are noiseless and fast
- LAN receipt Printers – It is rather a stable choice which gets connected to the wireless router through ethernet
- Bluetooth receipt printers – It connects to the POS terminal via wireless Bluetooth, enabling a fast-printing service.


Scanner
The POS barcode scanner/barcode reader is installed at the counter for reading barcodes demonstrated on the product and sending its data to the POS terminal. The data includes product information, SKU number, size/quantity, etc. Upon scanning the barcode software automatically updates the prices in the bill. It helps in speeding up the checking out process and updating the stock as well. It works best for fast-paced businesses especially retail, supermarkets, and coffee cafes, where long queues are expected over the cash counter. There are two types of barcode scanners:
- 1D (One Dimensional) barcode scanner – It is a traditional barcode reader that reads linear and horizontal barcodes.
- 2D (Two Dimensional) barcode scanner – It is an advanced POS scanner that reads "QR codes and barcodes with dots, patterns, and shapes. Beep is an app that scans QR codes through smartphones and can be used for
- View a menu/drink menu
- Order and pay for the meal
- Join a loyalty program
- get Cashback over the purchase
All in One POS System If you require a complete hardware solution and don't like to get all these individuals as a part of your POS system. To make it possible you can purchase an all-in-one bundle like Lightspeed offers or buy an all-in-one Point of sale.
All-in-one system includes most of the given components:
- An integrated tablet/iPad
- Stand carrying iPad/Tablets/PC
- Cash drawers
- Customer-facing display
- Receipt Printer
Now if you're worried to get which POS system for your business then head to our website and find 24/7 services. We offer a range of POS solutions from picking the right point-of-sale system to suggesting add-ons for the competitive edge, after carefully examining your retail business and it is particular needs. Please feel free to submit your feedback and let us know what news you would like us to talk about